Chiltern Railways has commissioned the latest in a series of contemporary artworks to feature on its new timetable.
The rail operator partnered with leading contemporary artists, Heather and Ivan Morison, and Digbeth-based art organisation, Eastside Projects, to create the artworks which will also feature on posters at stations on the Chiltern route, as part of its Chiltern Art Collaboration project.
The autumnal-themed artwork is entitled 'Trackside walk: Birmingham to London' and is an interlocking selection of woodcuts inspired by the 'interplay between the countryside and the line along the route'.
The artworks combine traditional craft techniques to form a slowed down, close up, version of reality, normally seen fleetingly from a train window at high speed.
Heather and Ivan Morison have exhibited around the world with their work being represented in influential galleries such as the Tate Modern in London. The artwork will be displayed at stations along Chiltern's route, showing how transport and art can combine as essential parts of UK public life.
Ivan Morison said: "We thought about these two huge cities, Birmingham and London. We thought about the line that runs between them and the stops along that line. We thought about the houses and the fields seen from the train window between those stations.
"We got off the train and walked a rambling route, field by field, village by town by city, a dot to dot of stations, putting all those lives lived along the line into an order, placing them into a story of a trackside walk."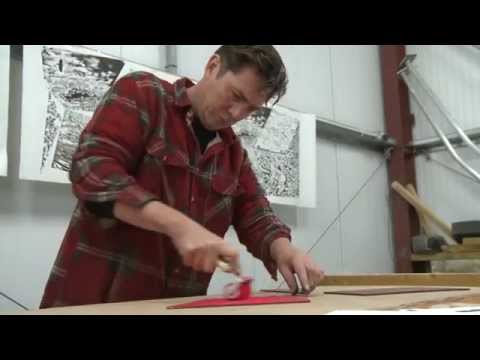 Rob Brighouse, managing director at Chiltern Railways, said: "The railway has strong links with the art world reinforcing how it can play an important and inspirational part in everyone's lives and has the potential to enrich our passengers' engagement with our stations.
"This is the most recent in a series of artistic collaborations and showcases how art has the power to make everyday items and spaces more memorable and interesting."
Gavin Wade, director of Eastside Projects said: "This is an important commission by two artists who have shown an ongoing commitment to Birmingham since the early 2000s when they first produced ground breaking artworks from their allotment in Edgbaston.
"Since then they have travelled the world exploring ways of making and storytelling and crafted along the way a fascinating body of work, from performance to architecture, that questions how we live today. "
Earlier this year the train operator worked with Swedish artist Gunilla Klingberg for the May timetable artwork and musician and artist Bill Drummond on several initiatives as part of the first leg of his World Tour 2014-2025 curated by Eastside Projects in Birmingham this year.